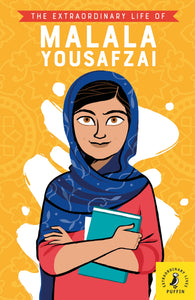 The Extraordinary Life of Malala Yousafzai
Hiba Noor Khan; Rita Petralucci
"I am so thankful this book has been published, I read this in one sitting. It is a very important story all readers young and old should read . . .
This book was incredibly inspiring and very insightful." - Goodreads reviewer Annie "This beautiful book reintroduces the girl from Swat valley to young readers . . . (the definitions of many words pepper the pretty, dusty-pink pages) and abounds with artwork to bolster a tale of true grit.
A great way to introduce a contemporary, real-life heroine to the next generation." - Goodreads reviewer Namratha Malala Yousafzai is: A student A campaigner An inspiration
Malala is known across the world for her bravery, resilience and hope in the face of terrifying adversity.
From playing in the Swat Valley in Pakistan to making speeches at the United Nations, she has become an inspiration for people fighting for justice.
Discover what it took for one incredible girl to become the voice of so many, in this beautifully illustrated book that brings Malala's extraordinary story to life.
---
We Also Recommend