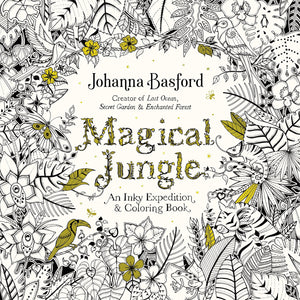 Magical Jungle: An Inky Expedition and Coloring Book for Adults
Johanna Basford
From the internationally bestselling creator of Lost Ocean and Secret Garden comes a beautiful new adult coloring book that takes you on a wondrous expedition through the jungle Follow ink evangelist Johanna Basford down an inky trail through the Magical Jungle and discover a forgotten world of flora and fauna just waiting to be colored in this new coloring book for adults.
Through intricate pen and ink illustrations, color-inners of all ages are invited to explore an exotic rainforest teeming with creatures large and small. Encounter speckled tree frogs and dainty hummingbirds, prowling tigers and playful monkeys. Let your imagination run wild in the leafy treetop canopy or find yourself drawn to the delicate world of sensational blossoms and tropical plants below. Now printed on specially selected ivory paper.
This paper has been specifically created for Johanna Basford's coloring books. It has a medium tooth which is perfect for creating beautiful colored pencil effects or chalk pastel backgrounds but also wonderful for pens, which will glide effortlessly over its surface. Filled with stunningly detailed illustrations, Magical Jungle is a blissful and relaxing at-home activity for people of all ages.
"The colorists have a queen, and her name is Johanna Basford." -New York Magazine "Consider trading in your yoga mat for a set of markers and peruse the gorgeous gardens of Basford's imagination." -The Huffington Post
---
We Also Recommend