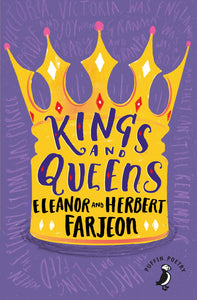 Kings And Queens
Eleanor Farjeon; Herbert Farjeon
Kings and Queens by Eleanor and Herbert Farjeon is a highly entertaining collection of poems about all forty-one English Kings and Queens since William I.
Reissued in Puffin Poetry Kings and Queens is an authentic classic that has delighted young readers and adults alike. With wonderfully witty illustrations by Robin Jacques, history has never been so much fun!
Eleanor and Herbert Farjeon were born in the 1880s into a highly literary family. Eleanor published nearly 70 books, mostly for children. Together with Herbert, her younger brother, she also wrote a children's panto, two operettas and a musical fairy story.
---
We Also Recommend