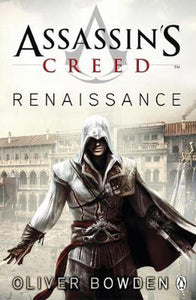 Renaissance: Assassin's Creed Book 1
Oliver Bowden
Assassin's Creed: Renaissance is the thrilling novelisation by Oliver Bowden based on the game series. 'I will seek Vengeance upon those who betrayed my family.
I am Ezio Auditore di Firenze. I am an Assassin...' The Year of Our Lord 1476 - the Renaissance: culture and art flourish alongside the bloodiest corruption and violence. Bitter blood-feuds rage between the warring political families of Italy. Following the murder of his father and brothers, Ezio Auditore di Firenze is entrusted with an ancient Codex, the key to a conspiracy that goes back to the centuries-old conflict between the shadowy Templar Knights and the elite Order of Assassins.
Ezio must avenge the deaths of his kinsmen and in doing so fulfil his destiny, and live by the laws of the Assassin's Creed. Truth is written in blood Assassin's Creed: Renaissance is based on the phenomenally successful gaming series. Fans of the game will love these stories. Other titles in the series include Assassin's Creed: Forsaken, Assassin's Creed: Brotherhood, Assassin's Creed: The Secret Crusade, and Assassin's Creed: Revelations. Oliver Bowden is the pen-name of an acclaimed novelist.
---
We Also Recommend