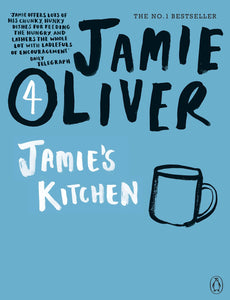 Jamie's Kitchen
Jamie Oliver
Jamie's Kitchen guides you through tried and tested methods for classic food that's full of flavor This is the ultimate guide for people who love great food and want to cook. It's packed with clear, no-nonsense advice and inspiration, as well as over 100 brand new recipes from the cookery course and the restaurant.
Jamie's Kitchen walks you through techniques like poaching, braising and pot-roasting and gives you the skill you'll need to create beautiful, feel-good food. From delicate Citrus Seared Tuna with Crispy Noodles, Herbs and Chili to succulent Barolo poached Fillet Steak with Celeriac Mash, there are dishes for every occasion.
Jamie's approach is honest and easy - this is not a heavy duty 'cook like a professional' book, weighed down with facts, figures and techniques. Jamie guides you through different cooking methods - from poaching and boiling, to char-grilling and pot-roasting.
Jamie Oliver encourages you to have confidence, a sense of independence, a laugh and - importantly - to be the boss in your own kitchen. 'Jamie should be given the Victoria Cross' The Times 'Jamie offers lots of his chunky, hunky dishes for feeding the hungry, and lathers the whole lot with ladleful of encouragement' Daily Telegraph
---
We Also Recommend