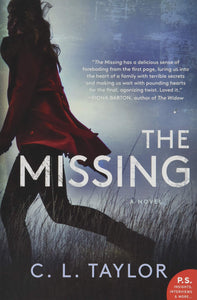 The Missing
C L Taylor
"The Missing has a delicious sense of foreboding from the first page, luring us into the heart of a family with terrible secrets and making us wait, with pounding hearts for the final, agonizing twist. Loved it."—Fiona Barton, author of The Widow
A harrowing psychological thriller about a missing teenage boy whose mother must expose the secrets within their own family if she wants to find her son—perfect for fans of Reconstructing Amelia.
You love your family. They make you feel safe. You trust them. Or do you…?

When fifteen-year-old Billy Wilkinson goes missing in the middle of the night, his mother, Claire Wilkinson, blames herself. She's not the only one. There isn't a single member of Billy's family that doesn't feel guilty. But the Wilkinsons are so used to keeping secrets from one another that it isn't until six months later, after an appeal for information goes horribly wrong, that the truth begins to surface.

Claire is sure of two things—that Billy is still alive and that her friends and family had nothing to do with his disappearance.

A mother's instinct is never wrong. Or is it…?

Combining an unreliable narrator and fast-paced storytelling, The Missing is a chilling novel of psychological suspense that will thoroughly captivate and obsess readers.
---
We Also Recommend