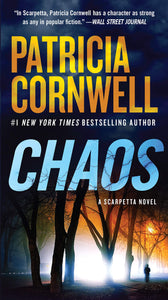 Chaos
Patricia Cornwell
On a late summer evening in Cambridge, Massachusetts, Dr. Kay Scarpetta and her investigative partner, Pete Marino, respond to a call about a dead bicyclist near the Kennedy School of Government. It appears that a young woman has been attacked with almost superhuman force.
Even before Scarpetta's headquarters has been officially notified about the case, Marino and Scarpetta's FBI agent husband, Benton Wesley, receive suspicious calls, allegedly from someone at Interpol. But it makes no sense. Why would the elite international police agency know about the case or be interested? It soon becomes apparent that an onslaught of harassment might be the work of an anonymous cyberbully named Tailend Charlie, who has been sending cryptic communications to Scarpetta for over a week.
Even Lucy, her brilliant tech-savvy niece, can't trace who it is or how this person could have access to intimate information. When a second death shocks Scarpetta to her core, it becomes apparent she and those close to her are confronted with something far bigger and more dangerous than they'd ever imagined.
---
We Also Recommend