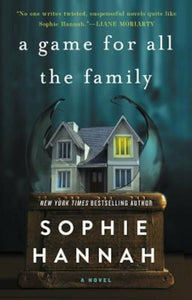 A Game for All the Family
Sophie Hannah
Pulled into a deadly game of deception, secrets, and lies, a woman must find the truth in order to defeat a mysterious opponent, protect her daughter, and save her own life in this dazzling standalone psychological thriller with an unforgettable ending from the New York Times bestselling author of Woman with a Secret and The Monogram Murders.
You thought you knew who you were. A stranger knows better.
You've left the city—and the career that nearly destroyed you—for a fresh start on the coast. But trouble begins when your daughter withdraws, after her new best friend, George, is unfairly expelled from school.
You beg the principal to reconsider, only to be told that George hasn't been expelled. Because there is, and was, no George.
Who is lying? Who is real? Who is in danger? Who is in control? As you search for answers, the anonymous calls begin—a stranger, who insists that you and she share a traumatic past and a guilty secret. And then the caller threatens your life. . . .
This is Justine's story. This is Justine's family. This is Justine's game. But it could be yours.
---
We Also Recommend