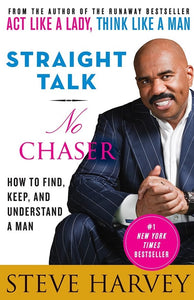 Straight Talk, No Chaser: How to Find, Keep, and Understand a Man
Steve Harvey
In "Straight Talk, No Chaser", Steve Harvey zeros in on what motivates men and provides tips on how women can use that knowledge to get more of what they need out of their relationships, whether it's more help around the house, more of the right kind of attention in the bedroom, more money in the joint bank account, or more truth when it comes to the hard questions concerning commitment, fidelity, jealousy, support, and children.
Steve provides insight on a wide range of subjects, from "How to Get the Truth Out of Your Man" to "How to Minimize Nagging and Maximize Harmony at Home".
In addition, he offers dating tips decade by decade, acknowledging that women in their twenties who are just starting to date seriously are asking different questions than women in their thirties who may feel the tick of their biological clocks.
And there's much more, including Steve's candid answers to questions women have always wanted to ask men. Drawing on a lifetime of experience and the feedback women around the country have shared with him, Steve offers wisdom on a wealth of topics relevant to both sexes today. He also gets more personal, sharing anecdotes from his own family history.
---
We Also Recommend