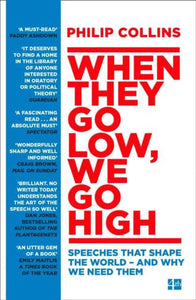 When They Go Low, We Go High: Speeches that shape the world - and why we need them
Philip Collins
A TIMES BOOK OF THE YEAR 'For all those who believe in the politics of principle and hope this a wonderful reminder that they do not always lose.
For all those who despair that politics can ever be inspiring again this is a must-read to shake you out of your misery' Paddy Ashdown 'By the people, for the people' 'I have the heart and stomach of a king' 'We shall never surrender' The right words at the right time can shape history.
By analysing twenty-five of the greatest speeches ever given - delivered by iconic figures from Elizabeth I to John F. Kennedy to Barack Obama - Philip Collins tells the story of democracy. For it is through the finest words spoken in public that progress unfolds. When They Go Low, We Go High is a passionate defence of the power of public speaking, and an urgent - and timely - reminder of how words can change the world.
For all those who believe in the politics of principle and hope, this is a wonderful reminder that they do not always lose. For all those who despair that politics can ever be inspiring again, this is a must read to shake you out of your miser' Paddy Ashdown
---
We Also Recommend