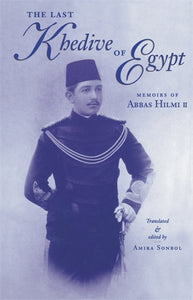 The Last Khedive of Egypt: The Memoirs of Abbas Hilmi II
Abbas Hilmi
The reign of Abbas Hilmi II has long been neglected by historians. Lord Cromer, the ruling British Consul-General and Agent in Egypt from 1883 to 1907, published what has been seen as the authoritative book on the Egyptian sovereign, but typically, this painted an imperialist picture. Similarly, Egyptian historians have written largely from a Nasserist nationalist perspective.
These memoirsÐ dictated by Abbas II to his secretary several decades after he had been exiled from Egypt in 1914 Ð provide a fascinating window on the mechanics of the strained relations between a sovereign and the power occupying his country. They reveal a caring man, desirous of reform, with definite progressive ideas. He was disillusioned by sycophantic Egyptian politicians who, fearing British wrath, rarely supported their monarch.
Abbas HilmiÕs belief that he owed it to his country to rule to the best of his ability also brought him under constant threat of deposition from the imperious Lord Cromer. Eldon Gorst, Cromer's successor, treated Abbas Hilmi with dignity, respecting him as a lawful sovereign, but when he died and was replaced by Lord Kitchener, the KhediveÕs fortunes waned. Abbas and Kitchener detested each other from the start and it was to be Kitchener who engineered AbbasÕs eventual deposition and exile.
Rich in personal accounts, this book provides a unique piece of history, and is a valuable primary source for historians of both Egypt and colonialism.
---
We Also Recommend