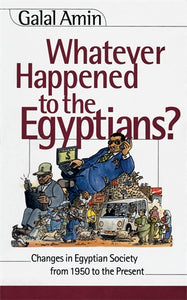 Whatever Happened to the Egyptians?: Changes in Egyptian Society across Half a Century
Galal Amin
Based on both academic research and the authorÕs own personal experiences and impressions, this delightful and informative book examines the underlying causes of some of the more disturbing social, political, economic, and cultural phenomena that characterize Egyptian society in modern times.
Through a fascinating and often highly entertaining examination of issues ranging from the middle class, religious fanaticism, and attitudes to the West and Western culture, to the Egyptian institution of the summer holiday by the sea and the performing arts and entertainment, Amin posits that social mobility after the 1952 Revolution changed the customs and habits, moral and material values, and patterns of consumption and investment of the aspiring classes.
This insightful book will prove a thought-provoking read for those concerned with emerging economies, international development, and privatization, and will intrigue anyone with an interest in the social history of Egypt.
---
We Also Recommend