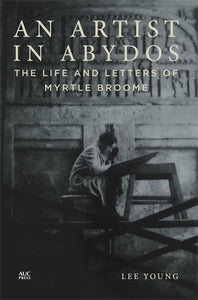 An Artist in Abydos: The Life and Letters of Myrtle Broome
Lee Young
The first book to reveal the private life of an Englishwoman whose contribution to the recording of Egypt's ancient past has long been overlooked

An Artist in Abydos is the first book to recognize Broome's great contribution to the work done during this golden age of excavation in Upper Egypt. In this remarkable account, Lee Young tells the story of Myrtle Broome, who died in 1978, largely through her letters. An only child and a prolific writer, Broome wanted her parents to know every facet of her life in Egypt. Her frequent letters to them vividly capture life in the villages, the traditions of the local people, the work of artisans, such as weaving and pot-making, and festivals, ceremonies, and music. In fascinating detail, the letters also depict Broome's living conditions providing us with a personal account of what it was like to be an English, working woman living abroad in Egypt in the 1930s.

Myrtle Florence Broome was born in 1888 to artistically inclined middle-class parents in the district of Holborn in London. Between 1911 and 1913, she studied at University College London under the legendary Sir William Petrie. In 1927 she was invited to join the excavations at Qau el-Kebir as an artist for the British School of Archaeology in Egypt, later traveling, in 1929, to work at the now famous Seti Temple in Abydos for the Egypt Exploration Society. Broome spent eight seasons there, copying the painted scenes in the Temple. Regarded then as one of the greatest copyists working in Egypt, she left invaluable renditions of some of ancient Egypt's most beautiful monuments.

An Artist in Abydos an important book celebrating the contributions of an under-recognized woman artist during the golden age of excavation in Egypt.
---
We Also Recommend