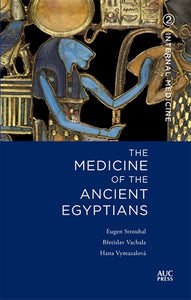 Medicine of the Ancient Egyptians: 2: Internal Medicine
Eugen Strouhal
A comprehensive survey of medical knowledge and practice in ancient Egypt focusing on internal medicine written by leading authorities in the field
Ancient Egyptian medicine employed advanced surgical practices, while the prevention and treatment of diseases relied mostly on natural remedies and magical incantations. Following the successful first volume of The Medicine of the Ancient Egyptians , which dealt with surgical practices and the treatment of women and children, this second volume explores a wide range of internal medical problems that the Egyptian population suffered in antiquity, and various methods of their treatment. These include ailments of the respiratory, digestive, and circulatory systems, chiefly heart diseases of various types, coughs, stomachaches, constipation, diarrhea, internal parasites, and many other medical conditions.
 Drawing on formulas and descriptions in the Ebers papyrus and other surviving ancient Egyptian medical papyri, as well as physical evidence and wall depictions, the authors present translations of the medical treatises together with commentaries and interpretations in the light of modern medical knowledge.
The ancient texts contain numerous recipes for the preparation of various remedies, often herbal in the form of pills, drinks, ointments, foods, or enemas. These reveal a great deal about ancient Egyptian physicians and their deep understanding of the healing properties of herbs and other medicinal substances.
Illustrated with thirty-five photographs and line drawings, The Medicine of the Ancient Egyptians: 2: Internal Medicine is highly recommended reading for scholars of ancient Egyptian medicine and magic, as well as for paleopathologists, medical historians, and physical anthropologists.
---
We Also Recommend