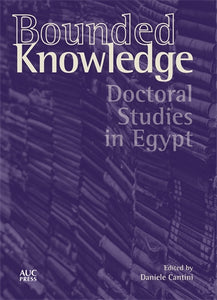 Bounded Knowledge: Doctoral Studies in Egypt
Daniele Cantini
ÔªøAn ethnographic study of how doctoral-level research in the social sciences and humanities is produced in Egypt

Much scholarship has been devoted to debates around how global inequalities of knowledge production arise from asymmetric power relations and disparities in access to material resources, as well as values and practices that prioritize certain academic disciplines and research outputs over others. The central role played by universities in producing both knowledge and researchers is similarly acknowledged, with the doctorate increasingly recognized as a crucial phase in establishing both.

Bounded Knowledge: Doctoral Studies in Egypt explores these debates from a uniquely Egyptian perspective. It provides a fresh, historical analysis of how doctoral studies evolved in Egypt and an ethnographic inquiry into the actual conditions of knowledge production in the country's public universities, with focus on the humanities and social sciences. Although it is commonplace to speak of international collaborations in knowledge production, institutional settings and material conditions are so uneven as to make the fiction of equality impossible to sustain. The chapters in this book, by social scientists within and outside Egypt, look closely at how such academic hierarchies are reinforced in the context of the internationalization of research. They also look at the ways in which notions of socially responsible research, common the world over, are translated in the particularly Egyptian context: how research topics are discussed, how doctoral studies are organized, and ultimately, how society thinks about research.
---
We Also Recommend