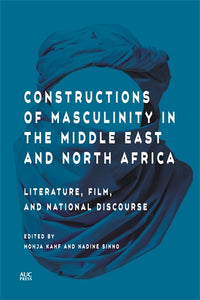 Constructions of Masculinity in the Middle East and North Africa: Literature, Film, and National Discourse
A multi-disciplinary exploration of how masculinity in the MENA region is constructed in film, literature, and nationalist discourse, now in paperback
Constructions of masculinity are constantly evolving and being resisted in the Middle East and North Africa. There is no "before" that was a stable gendered environment. This edited collection examines constructions of both hegemonic and marginalized masculinities in the MENA region, through literary criticism, film studies, discourse analysis, anthropological accounts, and studies of military culture. Bringing together contributors from the disciplines of linguistics, comparative literature, sociology, cultural studies, queer and gender studies, film studies, and history. 
Constructions of Masculinity in the Middle East and North Africa 
spans the colonial to the postcolonial eras with emphasis on the late twentieth century to the present day. This collective study is a diverse and exciting addition to the literature on gender and societal organization at a time when masculinities in the Middle East and North Africa are often essentialized and misunderstood.
---
We Also Recommend