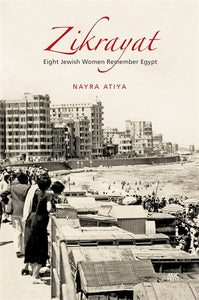 Zikrayat: Eight Jewish Women Remember Egypt
Nayra Atiya
Between 1948 and 1957, a period that witnessed two wars between Egypt and Israel, 60,000 members of Egypt's 75,000-strong Jewish population left the country, compelled by growing hostility to them because of their presumed links to Zionism, economic insecurity, and after 1956, overt expulsion. Decades later, during the 1980s and 1990s, the personal reminiscences of eight Egyptian Jewish women, presently residents of New York who had left Egypt, were meticulously collected by Nayra Atiya.
While Atiyas sample of eight narrators represents only a tiny percentage of the Jews who left Egypt, their accounts tell us much about the middle- and upper-class Jews who migrated to the Americas and Europe, giving us a vivid sense of their lives in Egypt before their departure and the dynamic role they played in Egyptian society.
They were the children or grandchildren of generations of Jews who migrated to Egypt from around or near the Mediterranean to escape economic hardship and persecution or, in one case, a family conflict. With one exception, Atiyas interlocutors resided in relatively upscale neighborhoods in Egypt near other Jewish families. They lived in elegant apartments, with servants, fine foods, memberships in elite clubs, and summers spent near Alexandria or in Europe.
In Zikrayat, Atiya movingly captures the essence of these womens characters and experiences, the fabric of their day-to-day lives, and the complex, many-layered mood of those times in Egypt. In doing so she brings to life the ties that bind all Egyptians, offering a glimpse into a now vanished worldand the heartbreak of exile and migration.
---
We Also Recommend