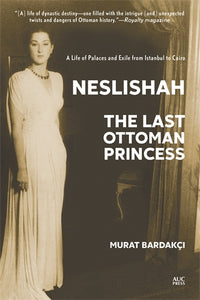 Neslishah: The Last Ottoman Princess
Murat Bardak
Twice a princess, twice exiled, Neslishah Sultan had an eventful life. When she was born in Istanbul in 1921, cannons were fired in the four corners of the Ottoman Empire, commemorative coins were issued in her name, and her birth was recorded in the official register of the palace. After all, she was an imperial princess and the granddaughter of Sultan Vahiddedin. But she was the last member of the imperial family to be accorded such honors: in 1922 Vahiddedin was deposed and exiled, replaced as caliphbut not as sultanby his brother (and Neslishahs other grandfather) Abdlmecid, in 1924 Abdlmecid was also removed from office, and the entire imperial family, including three-year-old Neslishah, was sent into exile.
Sixteen years later on her marriage to Prince Abdel Moneim, the son of the last khedive of Egypt, she became a princess of the Egyptian royal family. And when in 1952 her husband was appointed regent for Egypts infant king, she took her place at the peak of Egyptian society as the countrys first lady, until the abolition of the monarchy the following year. Exile followed once more, this time from Egypt, after the royal couple faced charges of treason. Eventually Neslishah was allowed to return to the city of her birth, where she died at the age of 91 in 2012.
Based on original documents and extensive personal interviews, this account of one womans extraordinary life is also the story of the end of two powerful dynasties thirty years apart.
 
---
We Also Recommend