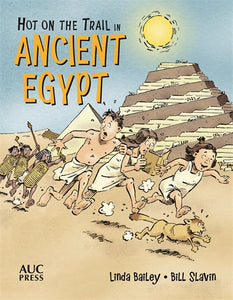 Hot on the Trail in Ancient Egypt
Linda Bailey
While all their friends are away on exciting summer holidays, the Binkerton twins, Emma and Josh, are stuck at home with their little sister, Libbyuntil they stumble into a grimy travel agency where the mysterious Julian T. Pettigrew gives them an old travel guide. As Josh opens the book, there is a terrible, wonderful flash, and the Binkertons find that they've traveled back in timeto ancient Egypt!
What follows is a thrilling and action-packed journey filled with kid-eating crocodiles, tomb robbers, and some very angry guards. The only way back to the present is to read every word of Pettigrew's fact-filled guidebook. Will the Binkertons ever make it home?
Through a delightful blend of fact and fiction, this fast-paced graphic novel takes readers on a whirlwind tour of an ancient civilization.
---
We Also Recommend