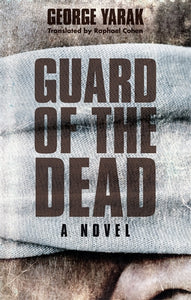 Guard of the Dead: A Novel
George Yaraq
A series of unfortunate events pulls one man into the heart of the Lebanese civil war, a conflict whose secrets he cannot escape. George Yaraks gripping novel captures the tragi-comic disorder of war with a dark sense of irony. Shortlisted for the International Prize for Arabic Fiction.
Aber makes a living in a Beirut hospital morgue by night, stealing from both the bodies he tends and his bosses. But he has a dark history that continues to haunt him. During the civil war, he fled his village for Beirut and, lost in the big city, joined a political party to survive. When he is kidnapped from the hospital, he knows he has not escaped his past and the many crimes he witnessed. But what or who is still chasing him?
Shortlisted for the Arabic booker prize, a mystery, anti-war novel set in the time of the Lebanese civil war and its aftermath
Aber, a young man who fled his village to live and work in a Beirut hospital is haunted by his past as a sniper during the Lebanon Civil War. He scrapes by a living plucking gold teeth from the dead bodies in the morgue in order to sell them for cash. The story takes on the dark notes of a thriller when he is kidnapped from the hospital. He has no idea who the perpetrators are and can only search through his past for clues. 
By George Yaraq, a Lebanese novelist and journalist, born in 1958. He has worked as an editor and writer for several Lebanese newspapers, magazines and publishers, and his first novel, Night, was published in 2013.
---
We Also Recommend