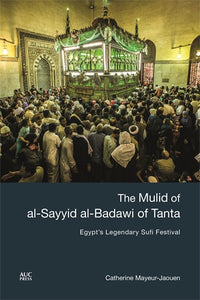 The Mulid of al-Sayyid al-Badawi of Tanta: Egypt's Legendary Sufi Festival
Catherine Mayeur-Jaouen
Every year, in the heart of the Nile Delta, a festival takes place that was for centuries the biggest in the Muslim world: the mulid of al-Sayyid Ahmad al-Badawi of Tanta. Since the thirteenth century millions of believers from neighboring regions and countries have flooded into Tanta, Egypts fourth-largest city, to pay devotional homage to al-Badawi, a much-loved saint who cures the impotent and renders barren women fertile.
This book tells for the first time the history of a mulid that for long overshadowed even the pilgrimage to Mecca. Organized by Sufi brotherhoods, it had, by the nineteenth century, grown to become the scene of a boisterous and rowdy festival that excited the curiosity of European travelers. Their accounts of the indecorous dancing and sacred prostitution that enlivened the mulid of al-Sayyid al-Badawi fed straight into Orientalist visions of a sensual and atavistic East. Islamic modernists as well as Western observers were quick to criticize the cult of al-Badawi, reducing it to a muddle of superstitions and even a resurgence of anti-Islamic pagan practices. For many pilgrims, however, al-Badawi came to embody the Egyptian saint par excellence, the true link to the Prophet, his hagiographies and mulid standing for the genuine expression of a shared popular culture.
Catherine Mayeur-Jaouen shows that the mulid does not in fact stand in opposition to religious orthodoxy, but rather acts as a mirror to Egyptian Islam, uniting ordinary believers, peasants, ulama, and heads of Sufi brotherhoods in a shared spiritual fervor. The Mulid of al-Sayyid al-Badawi of Tanta leads us on a discovery of this remarkably colorful and festive manifestation of Islam.
---
We Also Recommend