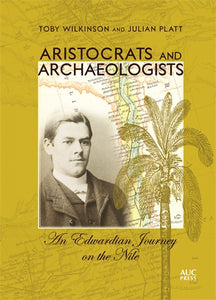 Aristocrats and Archaeologists: An Edwardian Journey on the Nile
Toby Wilkinson
A collection of letters in a small painted box passed down through three generations of a London family is the starting point for a vivid account of a three-month journey up and down the Nile in a bygone age. The letters, like a time capsule, bring to life a lost world of Edwardian travel and social mores, of Egypt on the brink of the modern age, of the great figures of Egyptology, of aristocrats and archaeologists.
In 1907/08 Ferdinand Platt (known to his family as Ferdy) traveled to Egypt as personal physician to the ailing 8th Duke of Devonshireone of the giant statesmen of the late Victorian ageand his family party, recounting his adventure in letters to his young wife in England. Throughout the journey Ferdy not only reported on the sights of the country around him, with his amateur Egyptologists eye, and the people he met along the way (including Howard Carter and Winston Churchill) but also recorded his private thoughts and intimate observations of a formal and stratified society, soon to be witness to its own extinction.
Introduced by Egyptologist Toby Wilkinson and Ferdys great-nephew Julian Platt, the letters open an intriguing window onto travel in Egypt during the Belle Epoque and the golden age of Egyptology.
---
We Also Recommend