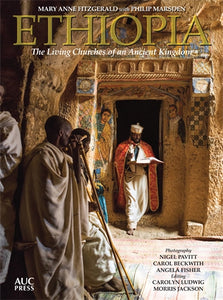 Ethiopia: The Living Churches of an Ancient Kingdom
Mary Anne Fitzgerald, Philip Marsden
A lavishly illustrated photographic journey through the history and traditions of the ancient churches of Ethiopia.
The ancient Aksumite Kingdom, now a part of Ethiopia, was among the first in the world to adopt Christianity as the official state religion. In AD 340 King Ezana commissioned the construction of the imposing basilica of St. Mary of Tsion. It was here, the Ethiopians say, that Menelik, son of King Solomon and the Queen of Sheba, brought the Ark of the Covenant containing the Ten Commandments. By the fifth century, nine saints from Byzantium were spreading the faith deep into the mountainous countryside, and over the next ten centuries a series of spectacular churches were either built or excavated out of solid rock, all of them in regular use to this day. Lalibela, a UNESCO World Heritage Site, has the best known cluster, but the northern region of Tigray, less well known and more remote, has many churches that are architectural masterpieces of the basilical type.
Ethiopia: The Living Churches of an Ancient Kingdom traces the broad sweep of ecclesiastic history, legend, art, and faith in this sub-Saharan African kingdom as seen through the prism of sixty-six breathtaking churches, unveiling the secrets of their medieval murals, their colorful history, and the rich panoply of their religious festivals, all illustrated with more than eight hundred superb color photographs by some of the most celebrated international photographers of traditional cultures. This magnificent, large-format, full-color volume is the most comprehensive celebration yet published of Ethiopias extraordinary Christian heritage.
Ethiopia is the third book on iconic places of worship published by Ludwig Publishing and the American University in Cairo Press, following the bestselling success of The Churches of Egypt and The History and Religious Heritage of Old Cairo.
---
We Also Recommend