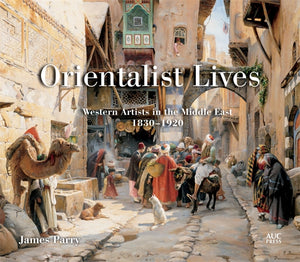 Orientalist Lives: Western Artists in the Middle East, 1830–1920
James Parry
In one of the most remarkable artistic pilgrimages in history, the nineteenth century saw scores of Western artists heading to the Middle East. Inspired by the allure of the exotic Orient, they went in search of subjects for their paintings. Orientalist Lives looks at what led this surprisingly diverse and idiosyncratic group of men and some women to often remote and potentially dangerous locations, from Morocco to Egypt, the Levant, and Turkey. There they lived, worked, and traveled for weeks or months on end, gathering material with which to create art for their clients back in the drawing rooms of Boston, London, and Paris.
 
Based on his research in museums, libraries, archives, galleries, and private collections across the world, James Parry traces these journeys of cultural and artistic discovery. From the early pioneer David Roberts through the heyday of leading stars such as Jean-Lon Grme and Frederick Arthur Bridgman, to Orientalisms post-1900 decline, he describes how these traveling artists prepared for their expeditions, coped with working in unfamiliar and challenging surroundings, engaged with local people, and then took home to their studios the memories, sketches, and collections of artifacts necessary to create the works for which their audiences clamored.
 
Excerpts from letters and diaries, including little-known accounts and previously unpublished material, as well as photographs, sketches, and other original illustrations, bring alive the impressions, experiences, and careers of the Orientalists and shed light on how they created what are now once again recognized as masterpieces of art.
---
We Also Recommend