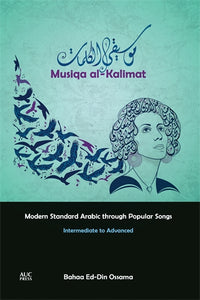 Musiqa al-Kalimat: Modern Standard Arabic through Popular Songs: Intermediate to Advanced
Bahaa Ed-Din Ossama
One of the best ways to learn a language is by studying the media that native speakers themselves listen to and read, and popular songs can also reveal much about the culture and traditions of an area where the language is spoken. Following on the success of his Kilma Hilwa: Egyptian Arabic through Popular Songs (AUC Press, 2015), Cairo-based Arabic teacher Bahaa Ed-Din Ossama now brings together twenty songs in Modern Standard Arabic performed by popular singers of the Arab world from Abd al-Halim Hafez to Fairouz and builds a variety of language lessons around them, with notes on vocabulary, grammar, and usage, and communicative exercises in listening, reading, and speaking. The songs are graded from easiest to most difficult, and each lesson includes a link to a performance of the song on YouTube, the lyrics of the song, and notes on the writer, the composer, and the singer. Illustrations by calligrapher Hatem Arafa accompany each song.
Students using this unique book will not only improve their Arabic skills but will also gain an insight into the cultural landscape of the Arab world. The book can be used in the classroom or for self-study.
Includes songs by: Abd al-Halim Hafez, Fairouz, Fuad Abd al-Magid, Karem Mahmoud, Kazem al-Saher, Muhammad Abd al-Wahab, Nagat al-Saghira, Rima Khashish, and Umm Kulthum.
---
We Also Recommend