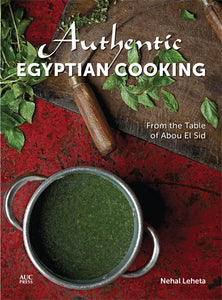 Authentic Egyptian Cooking: From the Table of Abou El Sid
Nehal Leheta
Traditionally, Egyptian cooking has been best practiced and enjoyed at home, where generations of unrecorded family recipes have been the sustaining repertoire for daily meals as well as sumptuous holiday feasts. Abou El Sid, one of Cairos most famous restaurants, has become well known for its authentic Egyptian dishes, and now presents more than fifty of its most classic recipes in a cookbook for the enjoyment of home cooks all over the world. 
Egyptians will recognize their favorites, from holiday dishes such as Fettah to the arrays of appetizers like aubergine with garlic, special lentils, and tahina, those new to Middle Eastern food will find the recipes simple and simply delicious, and enjoy the Egyptian table even if they dont have the heritage of the pharaohs in their family backgrounds.
- 57 authentic Egyptian recipes from starters to main courses to desserts.
- Each recipe illustrated with gorgeous, full color photographs.
- Beautifully designed and visually sumptuous boutique book.
---
We Also Recommend