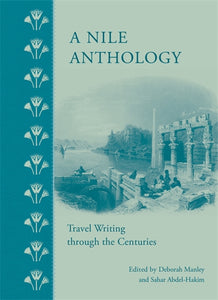 A Nile Anthology: Travel Writing through the Centuries
Deborah Manley
The stretch of the longest river in the world that nurtured the world's first great civilization has drawn and impressed visitors since ancient times. The Greeks were fascinated by the mysterious annual flood of the Nile that brought both water and nourishing silt to the lands along its banks, while nineteenth-century travelers were amazed by the magnificent tombs and temples of Upper Egypt.

A Nile Anthology brings together the accounts and reflections of visitors and travelers to the Nile between Luxor and Aswan through the ages, from Herodotus in the fifth century BC, and the Arab geographers of medieval times, to such nineteenth-century luminaries as Amelia Edwards, Florence Nightingale, Jean Francois Champollion, Edward Lane, and Sir Arthur Conan Doyle. From the practicalities of river travel to descriptions of the pharaonic monuments, via the sights, sounds, and smells of the teeming souks, our writers guide us through a world and an age long gone.

About the series: The elegant, pocket-sized volumes in the AUC Press Anthology series feature the writings and observations of travel writers and diarists through the centuries. Vivid and evocative travelers' accounts of some of the world's great cities and regions are enhanced by the exquisite vintage design in small hardback format that make the books ideal gift books as well as perfect travel companions. Designed on cream paper stock and beautifully illustrated with line drawings and archival photographs.
---
We Also Recommend