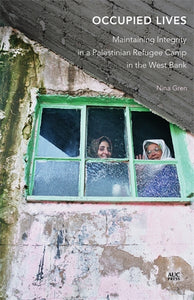 Occupied Lives: Maintaining Integrity in a Palestinian Refugee Camp in the West Bank
Nina Gren
Intense media coverage of the IsraeliÐPalestinian conflict does not necessarily enhance oneÕs knowledge or understanding of the Palestinians; on the contrary they are more often than not reduced to either victims or perpetrators. Similarly, while many academic studies devote considerable effort to analyzing the political situation in the occupied territories, there have been few sophisticated case studies of Palestinian refugees living under Israeli rule. An ethnographic study of Palestinian refugees in Dheisheh refugee camp, just south of Bethlehem, Occupied Lives looks closely at the attempts of the camp inhabitants to survive and bounce back from the profound effects of political violence and Israeli military occupation on their daily lives.
Based on the authorÕs extensive fieldwork conducted inside the camp, including a year during 2003Ð2004 when she lived in Dheisheh, this study examines the daily efforts of camp inhabitants to secure survival and meaning during the period of the al-Aqsa Intifada. It argues that the political developments and experiences of extensive violence at the time, which left most refugees outside of direct activism, caused many camp inhabitants to disengage from traditional forms of politics. Instead, they became involved in alternative practices aimed at maintaining their sense of social worth and integrity, by focusing on processes to establish a ÔnormalÕ order, social continuity, and morality. Nina Gren explores these processes and the ambiguities and dilemmas that necessarily arose from them and the ways in which the political and the existential are often intertwined in Dheisheh.
Combining theoretical readings with field-based case study, this book will be invaluable to scholars and students of social anthropology, sociology, international relations, refugee studies, religious studies, and Middle East studies, as well as to anyone with an interest in the IsraeliÐPalestinian issue.
---
We Also Recommend