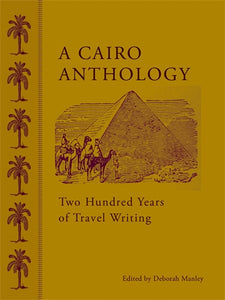 A Cairo Anthology: Two Hundred Years of Travel Writing
Edited By Deborah Manley
Cairo has long been recognized as one of the great cities of the world, and many travelers have recorded their descriptions of it over the centuriesfrom the early eye-witness account of Herodotus to the reflections of Sir Richard Burton, Florence Nightingale, and Mark Twain.
A Cairo Anthology gathers together the impressions of many of these writers: with them we experience the excitement of exploring the great city, through its crowded streets and colorful bazaars, we enter the hotels, hire donkeys, ascend to the historic Citadel, and look out across the Nile toward the Sphinx and the Pyramids, and we visit those vast monuments that are in reality always larger and more extraordinary than one can believe, and climb to their summits to gaze back at Cairo, the Mother of the World.
About the series: The elegant, pocket-sized volumes in the AUC Press Anthology series feature the writings and observations of travel writers and diarists through the centuries. Vivid and evocative travelers accounts of some of the worlds great cities and regions are enhanced by the exquisite vintage design in small hardback format that make the books ideal gift books as well as perfect travel companions. Designed on cream paper stock and beautifully illustrated with line drawings and archival photographs.
---
We Also Recommend