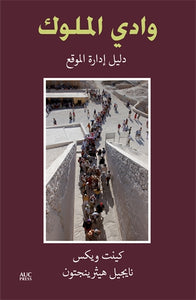 The Valley of the Kings (Arabic edition): A Site Management Handbook
Kent R. Weeks
During the New Kingdom (c. 1570Ð1070 BCE), the Valley of the Kings was the burial place of EgyptÕs pharaohs, including such powerful and famous rulers as Amenhotep III, Rameses II, and Tutankhamen. They were buried here in large and beautifully decorated tombs that have become among the countryÕs most visited archaeological sites. The tourists contribute millions of badly needed dollars to EgyptÕs economy. But because of inadequate planning, these same visitors are destroying the very tombs they come to see. Crowding, pollution, changes in the tombsÕ air quality, ever-growing tourist infrastructureÑall pose serious threats to the ValleyÕs survival.
This volume, the result of twenty-five years of work by the Theban Mapping Project at the American University in Cairo, traces the history of the Valley of the Kings and offers specific proposals to manage the site and protect its fragile contents. At the same time, it recognizes the need to provide a positive experience for the thousands of visitors who flock here daily. This is the first major management plan developed for any Egyptian archaeological site, and as its proposals are implemented, they offer a replicable model for archaeologists, conservators, and site managers throughout Egypt and the region.
Published in both English and Arabic editions and supported by the World Monuments Fund, this critical study will help to ensure the survival of EgyptÕs patrimony in a manner compatible with the countryÕs heavy reliance on tourism income.
Arabic Edition
---
We Also Recommend