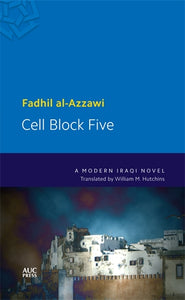 Cell Block Five: An Iraqi Novel
Fadhil al-Azzawi
Being plucked from a Baghdad cafŽ and deposited in a cell block for political prisoners is a wakeup call for Aziz, the novelÕs hero and narrator, a young man who has been living on automatic pilotÑas if he were a guest visiting his own lifeÑand he is finally forced to come to terms with the flawed world we inhabit and shape. Although never charged with any offense, he must adjust to a lengthy stay in prison, where he is befriended by Salam the yard boss, MunÔim an idealistic university student with a beautiful sister named Salwa, Yusuf an idealist dispatched to the ÔSwamp,Õ Salman an anarchist schoolteacher, and Mustafa an aged farmer who dreams of an alternative society. While these imprisoned revolutionaries teach Aziz to dream that an ideal city with his name on it may lie just over the horizon, the police supervisor encourages him to think of a simple crime to which he can confess so he can be charged and eventually released.

Based on the authorÕs own incarceration in Iraq, Cell Block Five is a clear-headed, good-humored tribute to the prisonÕs menÑboth the inmates and the guardsÑand an indictment of manÕs gratuitous inhumanity to man, pointing out that the transition from abused to abuser, tortured to torturer, can be an easy one.

Written in 1971 and published outside Iraq in 1972, Cell Block FiveÑthe first Iraqi prison novelÑwas later made into a feature film in Syria. Drawing the reader subtly into the political section of an Iraqi prison, this compelling story easily transcends cultural boundaries.
---
We Also Recommend