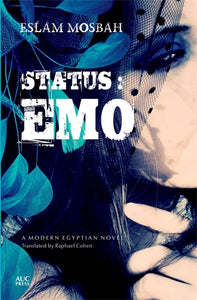 Status: Emo: An Egyptian Novel
Eslam Mosbah
You are bored, bored, bored, stuck in a half-job, berated by your parents and unsure whether you should marry your cousin. You want to change. A chance encounter on Facebook leads you to Emmie and her underground world of strange fashion, drinking, dancing, sex, and drugs. You become an Emo and discover philosophical atheism and practical Satanism.
Although EmmieÕs rules include no sex and no love, you become addicted to her and the belief that she will be the one to change you. You fall in love. Your inability to disobey her leads you to embrace her creed. The efforts of your family to restore you to the fold fail, and your heroism leads her to succumb to you.
One final act of ÔdegeneracyÕ too far leads you into the arms of the stateÕs torturers and to reaffirm societyÕs values, if with a greater sense of freedom and adventure.
Status: Emo is a romp through the mind of the young Egypt. Written in 2010, it predicts revolt and hints at culture wars to come.
---
We Also Recommend