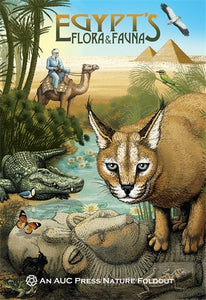 EgyptÕs Flora and Fauna: An AUC Press Nature Foldout
Dominique Navarro
Besides its archaeological treasures, Egypt is also home to an exotic and mysterious wealth of wildlife, hiding at times in its temples and tombs, its deserts and oases. The Nile nourishes an array of habitats, flora, and fauna often overlooked by the archaeologically curious tourist. This full-color foldout guide introduces an exciting array of animals and plants, from river wetland residents to desert survivors. Water-resistant and compact, it is the perfect travel companion, filled with beautiful illustrations, comprehensive text, diagrams, and maps.
Includes:
- Map of Egypt and opportune locations to see wildlife
- Palms & other common native and non-native plants
- Mammal species: carnivores, insectivores, rodents
- Common reptiles & amphibians
- Insects & invertebrates
- Freshwater fish of the Nile

About the series: The AUC Press Nature Foldout series combine, in beautifully practical form, a wealth of information written by leading experts with striking full-color illustrations on the flora and fauna of Egypt and the Middle East. Designed for nature lovers and outdoor adventurers, as well as for indoor use, the foldouts come in an easily foldable format, at once compact, waterproof, and portable, making them durable and convenient travel guides. Size is 23 x 8.5 in. / 58.5 x 21.5 cm unfolded.
---
We Also Recommend