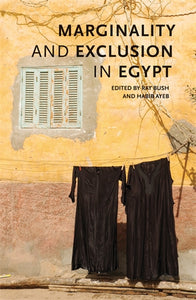 Marginality and Exclusion in Egypt
Ray Bush and Habib Ayeb
What does it mean to be marginalized? Is it a passive condition that the disadvantaged simply have to endure? Or is it a manufactured label, re-produced and by its nature transitory?

In the wake of the new Egyptian revolution, this insightful collection explores issues of power, politics and inequality in Egypt and the Middle East. It argues that the notion of marginality tends to mask the true power relations that perpetuate poverty and exclusion. It is these dynamic processes of political and economic transformation that need explanation.

The book provides a revealing analysis of key areas of the Egyptian political economy such as labour, urbanization and the creation of slums, disability, refugees, street children and agrarian livelihoods, reaching the impactful conclusion that marginalization does not mean total exclusion. What is marginalized can be called upon to play a dynamic part in the futureÑas is the case with the revolution that toppled President Mubarak.
---
We Also Recommend