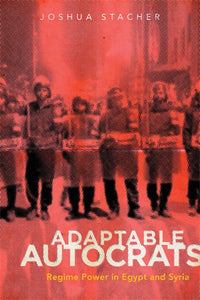 Adaptable Autocrats: Regime Power in Egypt and Syria
Joshua Stacher
Notwithstanding the 2011 Arab Spring, autocratic continuity—not wide-ranging political change—remains the hallmark of the region's upheaval. Contrasting Egypt and Syria, Joshua Stacher examines how executive power is structured in each country to show how these preexisting power configurations shaped the uprisings and, in turn, the outcomes.
Even as Mubarak was forced to relinquish the Egyptian presidency, military generals from the regime were charged with leading the transition. The course of the Syrian uprising reveals a key difference: the decentralized character of Syrian politics.

Political structures, elite alliances, state institutions, and governing practices are seldom swept away entirely—even following successful revolutions—so it is vital to examine the various contexts for regime survival. Elections, protests, and political struggles will continue to define the region in the coming years. Examining the lead-up to the Egyptian and Syrian uprisings helps us unlock the complexity behind the protests and transitions.
---
We Also Recommend