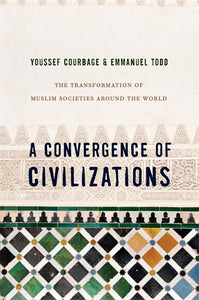 A Convergence of Civilizations: The Transformation of Muslim Societies around the World
Yousef Courbage
Leaving aside the media's sound and fury on the conflict between the west and the Islamic world, measured analysis shows another reality taking shape: rapprochement between these two civilizations, benefiting from a universal movement with roots in the Enlightenment.

The historical and geographical sweep of this book discredits the notion of a specific Islamic demography. The range of fertility among Muslim women, for example, is as varied as religious behavior among Muslims in general. Whether agnostics, fundamentalist Salafis, or al-Qaeda activists, Muslims are a diverse group that prove the variety and individuality of Islam. Youssef Courbage and Emmanuel Todd consider different degrees of literacy, patriarchy, and defensive reactions among minority Muslim populations, underscoring the spread of massive secularization throughout the Arab and Muslim world.

Sensitive to demographic variables and their reflection of personal and social truths, Courbage and Todd upend a dangerous meme: that we live in a fractured world close to crisis, struggling with an epidemic of closed cultures and minds made different by religion.
---
We Also Recommend