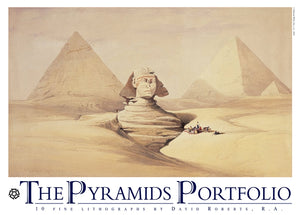 The Pyramids Portfolio: Gift Edition
David Roberts, R.A.
These handsome portfolios in a special new gift edition format contain ten fine art prints each of David RobertsÕs superb nineteenth-century lithographs of Egypt, ancient and modern. Between 1842 and 1849, on the basis of sketches made on the spot and aided by his excellent memory, David Roberts produced the
drawings that Louis Haghe turned into prints published by Francis Graham Moon. These lithographs appeared in the original hand-painted deluxe edition.
Published here on high-quality paper and suitable for framing, they reproduce architectural details, landscapes, and street scenes with an accuracy that today would be called photographic. These high-quality collections of prints celebrate the epic grandeur and fine detail of RobertsÕs views, in a format that complements his extraordinary artistic achievements.
---
We Also Recommend