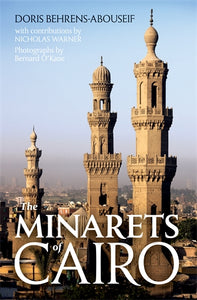 The Minarets of Cairo
Doris Behrens-Abouseif
Minarets have defined Cairos skyline since its early history: they are one of the most characteristic features of Islamic architecture. In Egypt, where civilizations have manifested themselves through awe-inspiring structures since antiquity, a thousand minarets reveal the impact of Islamic civilization and urban aesthetics.
The Minarets of Cairo offers an accessible and vivid insight into the religious, historical, and architectural significance of the minaret in Cairo from the Arab conquest, through the Abbasid, Fatimid, Mamluk, and Ottoman periods. Students and scholars will welcome historian and art historian Doris Behrens-Abouseifs excellent new research and analysis as well as over one hundred illustrated entries for individual minarets, brought to life by Nicholas Warners masterly architectural drawings and reconstructions.
With nearly three hundred illustrations, this beautiful book provides depth and color, displaying to full effect historic Cairos most impressive monuments.
---
We Also Recommend