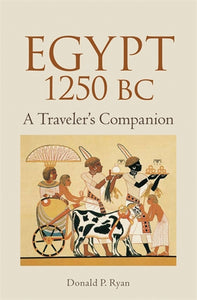 Egypt 1250 BC: A TravelerÕs Companion
Donald P. Ryan
Strap on your sturdiest sandals and start planning your trip to Egypt in 1250 BC. You may have heard the rumors: the language is perplexing, there are no tourist facilities, and an aggressive, egocentric pharaoh rules the land. But Egypt will be a must-see vacation destination for millennia to come! So donÕt delayÑvisit now, before the Roman tourist hordes arrive.
Drawing on contemporary sources and years of experience excavating in Egypt, archaeologist Donald P. Ryan guides the time-traveling tourist on a journey up the Nile, taking in the sights of Memphis, the pyramids, Thebes, and beyond. En route he offers useful advice on everything from deciphering hieroglyphs to deciding which god to petition in the event of a scorpion sting.
So leave the protective amulets at home and banish all fear of being sold as a galley slave. This imaginative guide is all you need to survive and enjoy your visit to Egypt in its glorious age of empire.
---
We Also Recommend