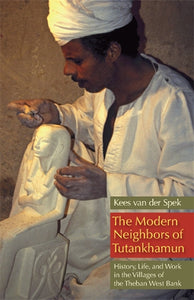 The Modern Neighbors of Tutankhamun: History, Life, and Work in the Villages of the Theban West Bank
Kees van der Spek
Until their recent demolition, the colorful mud-brick hamlets of al-Qurna village, situated among the Noble Tombs of the Theban Necropolis on the Luxor West Bank, were home to a vibrant community.
Inhabiting a place of intensive Egyptological research for over two centuries, it was inevitable that Qurnawis should become part of the history of Egyptology and the development of archaeological practice in the Theban Necropolis. But they have mostly been regarded as laborers for the excavation teams or dealers in the illicit antiquities trade. The modern people inhabiting the ancient burial grounds have themselves rarely been considered.
By demonstrating the multiplicity of economic activities that are carried out in al-Qurna, this study counters the villagersÕ stereotypical representation as tomb robbers, and restores an understanding of who they are as people living their lives in the shadow of valued cultural heritage.
---
We Also Recommend