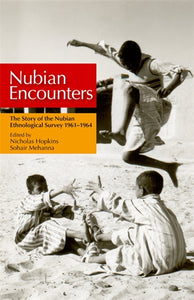 Nubian Encounters: The Story of the Nubian Ethnological Survey 19611964
Nicholas S. Hopkins
In the 1960s the construction of the Aswan High Dam occasioned the forced displacement of a large part of the Nubian population. Beginning in 1960, anthropologists at the American University in CairoÕs Social Research Center undertook a survey of the Nubians to be moved and those already outside their historic homeland. The goal was to record and analyze Nubian culture and social organization, to create a record for the future, and to preserve a body of information on which scholars and officials could draw. This book chronicles the research carried out by an international team with the cooperation of many Nubians.
Gathered into one volume for the first time are reprinted articles that provide a valuable resource of research data on the Nubian project, as well as photographs taken during the field study that document ways of life that have long since disappeared.

Contributors: Kawthar Abd el-Rasoul, Mohamed Fikri Abdel Wahab, Charles Callender, Abdelfattah Eid, Hussein Fahim, Robert A. Fernea, Peter Geiser, Fadwa el Guindi, Anna Hohenwart-Gerlachstein, John G. Kennedy, Mohamed Riad, Alia Rouchdy, Thayer Scudder, and Abdel Hamid El-Zein.
---
We Also Recommend