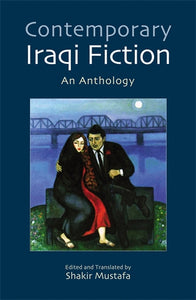 Contemporary Iraqi Fiction: An Anthology
Shakir Mustafa
This first anthology of its kind gathers work from sixteen Iraqi writers. Shedding a bright light on the rich diversity of Iraqi experience, Shakir Mustafa has included selections by Iraqi women and men from a variety of backgrounds.
While each voice is distinct, they are united in writing about a homeland that has suffered under repression, censorship, war, and occupation. Many of the selections mirror these grim realities, forcing the writers to open up new narrative terrains and experiment with traditional forms. Themes range from childhood and family to war, political oppression, and interfaith relationships. Mustafa provides biographical sketches of the writers and an enlightening introduction chronicling the evolution of Iraqi literature.

Includes works by: Ibtisam Abdullah, Ibrahim Ahmed, Lutfiyya al-Dulaimi, Mayselun Hadi, Muhammad Khodayyir, Samira Al-Mana, Nasrat Mardan, Shmuel Moreh, Samir Naqqash, Abdul Sattar Nasir, Jalil al-Qaisi, Abdul Rahman Majeed al-Rubaie, Mahmoud Saeed, Salima Salih, Mahdi Isa al-Saqr, Samuel Shimon.
---
We Also Recommend