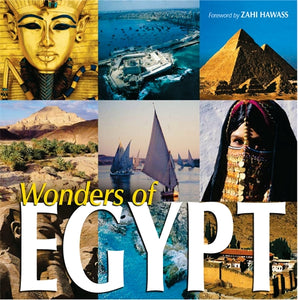 Wonders of Egypt
Giorgio Ferrero
Egypt is a country of a thousand facets and striking contrasts, which has now become one of the most popular international tourist destinations, thanks to the marvels of its archaeological treasures, the warm waters and sunny beaches of its Red Sea coast, and the exotic attractions of its souks and city streets.
Meanwhile, Egypt is also a modern country pursuing its own model of development, one that attempts to incorporate both tradition and innovation. From the pyramids to the Red Sea coral reefs, from the desert oases to the rocky mountains of Sinai, from the cultivated fields of the Delta to the modern megalopolis of Cairo, this book uses pictures to illustrate and evoke the many stunning attractions of the land of the pharaohs.
More than 500 spectacular color photographs celebrate Egypt's natural, cultural, and historic splendors from Alexandria to Nubia and from Siwa to Sinai, revealing the many wonders of this extraordinary country.
---
We Also Recommend