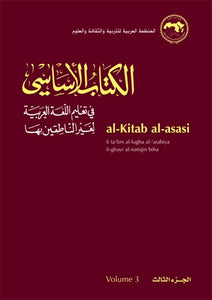 fi ta'lim al-lugha al-'arabiya li-ghayr al-natiqin biha. Volume 3
El-Said Badawi et al.
This three-part course in Modern Standard Arabic for non-native speakers approaches the language through a series of themed topics—daily life in the Arab world, politics and governance, literature and the arts, science and medicine, astronomy—concentrates principally on listening and speaking skills. In each section, vocabulary is built up as various linguistic structures and strategies are introduced and practiced in a clear introduction to Arabic grammar. A CD accompanies Volume 1, and a supplementary dictionary, al-Mu'jam al-musa'id, gives a complete key to the vocabulary of all three books in four languages: English, French, German, and Spanish. Comprehensive and easily digestible, varied and informative, these books make an ideal basis for a classroom-based course in Arabic anywhere in the world.
---
We Also Recommend