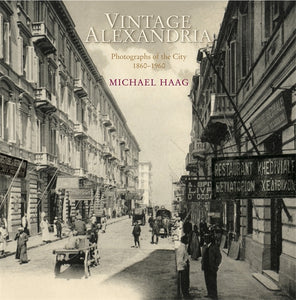 Vintage Alexandria: Photographs of the City, 1860 to 1960
Michael Haag
 
Using vintage photographs from the second half of the nineteenth century and first half of the twentieth, many of them from private family albums, this book brings to life the world of that vanished Alexandria, a vibrant, stylish, and cosmopolitan city, the largest port in the Mediterranean, that was the prosperous gateway between Egypt and the world.
Seen here in the setting of their homes and gardens, and on the city's streets and beaches, the faces of those forgotten Alexandrians come to life: the Greeks, Italians, Jews, and all those others from around the Mediterranean whose energy and expertise helped modernize and develop Egypt, and who planted their family roots in the city. This was the luxuriant and evocative city celebrated by Constantine Cavafy, E.M. Forster, and Lawrence Durrell, and they too are included in these pages along with photographs of scenes and people that were familiar to them. Vintage Alexandria traces the development and growth of the city, follows its story through the dramatic events of two world wars, and above all provides a background to the city's place in twentieth-century cultural history, through the eyes of Alexandria's cosmopolitan citizens themselves.
 
Those citizens and others who passed through the city and appear in these pages included Antony Benaki (the Greek cotton trader whose collection formed the basis of the famous Benaki Museum in Athens), Robert Koch (who isolated the cholera virus and developed a vaccine in an Alexandria laboratory), the Greek children's writer Penelope Delta, Claude Vincendon (the third wife of Lawrence Durrell), King Victor Emanuel III of Italy, Eve Cohen (the second wife of Lawrence Durrell, and the model for Justine), Safinaz Zulfikar (later married to King Farouk as Queen Farida), Rudolph Hess (Hitlers deputy, who attended school in Alexandria), Jean de Menasce (the best translator of T.S. Eliot), Manfred von Richthofen (the Red Baron), the Egyptian film director Youssef Chahine, the Egyptian and international film star Omar Sharif, King Hussein of Jordan, Rhona Haszard (the post-impressionist painter), Ahmed Hassanein Pasha (the Egyptian explorer and diplomat), and Noel Coward (the English writer and wit, who sang at the Fleet Club in Alexandria and was mobbed by sailors).
---
We Also Recommend