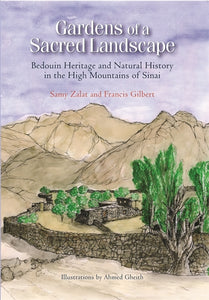 Gardens of a Sacred Landscape: Bedouin Heritage and Natural History in the High Mountains of Sinai
Samy Zalat
This beautifully illustrated book describes the unique environment and the natural history of St. Katherine in Sinai from the perspective of its inhabitantsÑthe Gabaliya Bedouin. The Gabaliya live in the high and rugged mountain massif of South Sinai, enclosed within the St. Katherine Protectorate in an area now declared as a World Heritage Site. St. Katherine is one of the worldÕs most important protected areas for its special historical, cultural, religious, and environmental heritage. It contains EgyptÕs highest mountainÑMount KatherineÑand one of the worldÕs most sacred: Mount Sinai.

The Gabaliya have a unique history, and their intimate relationship with their harsh environment is equally unique. In the arid landscape within the great Ring Dyke they have created their own orchard agriculture, growing fruit and vegetables in irrigated walled gardens that seem to grow out of the rock on remote wadi floors or on the steep mountainsides themselves.

This book introducesÑfrom their own observationsÑthe gardens and the unique culture and heritage of the Gabaliya, the vegetables and fruits they grow, and the mammals, birds, lizards, and insects associated with their gardens and environment in this remarkable landscape. The book is fully illustrated with photographs and watercolor paintings.
---
We Also Recommend