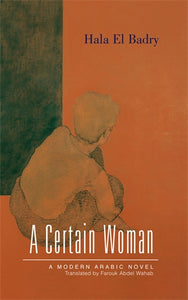 A Certain Woman
Hala El Badry
In this prize-winning novel, Nahid is a woman determined to go on a journey of self discovery and understanding. As we accompany her in her sometimes delirious, sometimes lucid journey, we are given rare glimpses of the inner thoughts and feelings of a woman confronting questions of love and intimacy within and outside of marriage. It is a story of one woman's quest for liberation, not from a repressive society or a male-dominated world that is easy and has been done many times before, but from self-imposed taboos that inhibit a woman's ability to find fulfillment and to confront the many imponderables surrounding sexuality, desire, and love.
Stuck—by conscious choice to keep up the genteel appearances of her middle-class family—in a loveless marriage to Mustafa, the forty-something Nahid finds love and sex with novelist and journalist Omar—himself trapped in a loveless, but not sexless, marriage to Maggie. Although their love story is at the very heart of the novel, we are given broad glimpses of the larger picture of the world outside through Nahid's work as an archaeologist and Omar's as a journalist.
The novel was well received by women readers, critics, and reviewers and by a majority of the male audience, while a vociferous minority of male critics felt scandalized by it, finding it unseemly that such issues should be raised by a woman. Now English readers can judge for themselves.
---
We Also Recommend