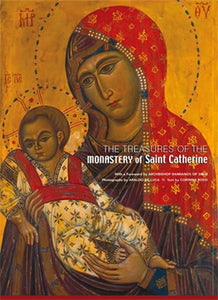 The Treasures of the Monastery of Saint Catherine (French edition)
Corinna Rossi
The origins of the Monastery of Saint Catherine at the foot of Mount Sinai date to A.D. 324, when a community of monks requested Helena, the mother of Emperor Constantine, to build a chapel on the spot where they believed the Burning Bush had stood.

Two centuries later, Emperor Justinian had the building enlarged and massive walls built, and thus the Monastery remained for centuriesÑan oasis of peace, shrouded in mystery and sacredness. Not even the Crusades left a trace of their passing, except for some graffiti carved in the refectory. Today St. CatherineÕs has become a place of pilgrimage and international tourism.
Visitors are attracted by the routeÑwhich crosses the colorful Sinai Desert to reach Jebel Musa, the Mount Sinai of the Old TestamentÑand, above all, by the charm of the monastery itself, rich in artistic and historical treasures and deep in serenity. This book takes the reader inside one of the most important places in the Christian landscape, through stunning pictures taken by renowned photographers. The text gives an account of the history of the holy site, as well as of recent investigations and discoveries. The exceptional quality of the illustrations and text make this very affordable book a worthy tribute to one of the Christian worldÕs most famous monasteries.
French Edition
---
We Also Recommend