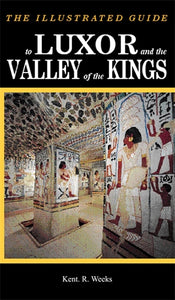 The Illustrated Guide to Luxor (Italian edition): Tombs, Temples, and Museums
Kent R. Weeks
The scale and richness of the tombs and temples on the banks of the Nile at Luxor have attracted and fascinated travelers for thousands of years. Now finally comes the vade mecum that generations of visitors would have loved to have.
The Illustrated Guide to Luxor and the Valley of the Kings, fully illustrated with superb color photographs, not only provides a comprehensive itinerary through the tombs and monuments of ancient Thebes and the museums of modern Luxor but also has extensive chapters devoted to the history of the city and Egyptian religion, as well as advice for the modern traveler on hotels and restaurants. Simple but detailed itineraries lead us first through the sites on the east bank of the Nile, including Karnak and Luxor temples, the Luxor Museum, and the Museum of Mummification. Then we cross to the west bank for a thorough exploration of the templesÑthe Ramesseum, Deir al-Bahari, Medinet Habu, and moreÑand the tombs of the Kings, the Queens, and the Nobles. A glossary of archaeological and ancient Egyptian terms and an extensive bibliography are included at the end of the book.
The combination of authoritative texts, full-color photographs, planimetric maps, and descriptions of every major tomb and monument in Luxor will facilitate and enhance any visitorÕs tour of one of the worldÕs richest and most significant collections of archaeological sites.
Italian Edition
---
We Also Recommend