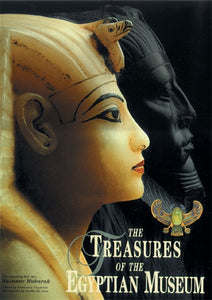 The Treasures of the Egyptian Museum (Spanish edition)
Francesco Tiradritti
The Egyptian Museum in Cairo: a palace of priceless treasures, the largest collection of ancient Egyptian artifacts in the world, covering more than three thousand years of EgyptÕs history, from its Predynastic origins to the Roman period. In this spectacular book, curators of Egyptian collections around the world survey the contents of the Egyptian Museum. Over 400 items on display are described and illustrated in full color, from little-known but important objects to pieces that have amazed the world, like the mesmerizing gold mask of Tutankhamun. Stunning photography combined with impeccable scholarship show off the priceless treasures of the Egyptian Museum at their very best.

ÒTurning through its pages,Ó writes H.E. Mrs. Suzanne Mubarak in her Introduction to the book, Òhas given me immense pleasure and awakened in me once again a sense of awe and wonder at the glory and the humanity of the people who lived in the land of Egypt all those thousands of years ago.Ó
Contributors: Zahi Hawass, Mohammed Saleh, Christine Ziegler, Dieter Arnold, Adela Oppenheim, Dietrich Wildung, Francesco Tiradritti, Anna Maria Roveri Donadoni, Jean Yoyotte, Herman de Meulenaere, Edna Russman, Donald Bailey.
Spanish Edition
---
We Also Recommend